Taoping (NASDAQ:TAOP) is a leading provider of internet-based advertising and marketing services in China. The company operates an online advertising platform that enables advertisers to reach consumers through a network of over 500,000 internet terminals located in public places including restaurants, cafes, bars, hair salons, clinics, and others.
Taoping also provides a cloud-based content management system that helps advertisers create and manage digital content, as well as an online payment system that facilitates transactions between advertisers and internet terminal owners. In addition, the company operates a big data platform that uses artificial intelligence technology to help advertisers target consumers more effectively.
Taoping is a growing company with a strong business model and promising prospects. The company is well-positioned to capitalize on the growing internet and mobile advertising markets in China. Taoping is worth considering for investors looking for exposure to the Chinese internet and marketing services industry.
Taoping Business Summary
Taoping Inc. is a provider of cloud-based platform, exchange, and big data solutions. The company operates in two segments: Cloud-based Technology (CBT) and Traditional Information Technology (TIT).
CBT is where the company's emphasis is. The CBT segment comprises of cloud-based solutions and services provided to private sectors, including new media, healthcare, education, and residential community management.
The CBT segment involves the sale of hardware, software, and content solutions that are integrated. The TIT segment comprises the company's project-based technology products and services sold to the public sector, such as geographic information systems (GIS), digital public security technology (DPST), and digital hospital information systems (DHIS). In this area, the firm primarily sells software and system integration services.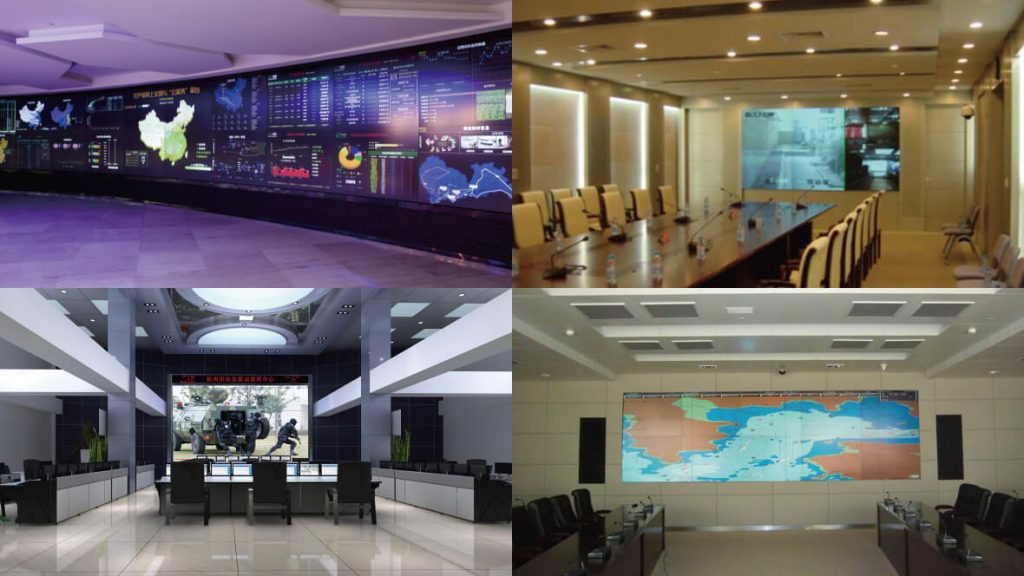 TAOP Stock Technical Analysis
Key levels of support and resistance based in Fibonacci Retracement. (52 week levels).
Current TAOP Stock Price: $0.60
$3.58 (25-weeks high)
$0.55 (25-weeks low)
TAOP Stock Technical Analysis Price Targets & Key Levels of Support
$1.00 SMA 20 Red line
$1.26 (First resistance at 23.60% ratio)
$1.62 SMA 50 Blue line
$1.17 (Next resistance at 38.20% ratio) $2.06 (Resistance at 50% ratio)
$2.42 (Strong resistance at 61.80% ratio)
After reaching $3.58 (25-week high), the share price has experienced a strong downtrend due to the Ukraine conflict, the COVID outbreak, and rising interest rates. The downtrend was halted twice: on January 24, after Omicron fears subsided, rising 55%, and on June 6, driven by the rally in US stocks.
In recent days, the share price has corrected 12%. The stock is currently in the oversold zone of the RSI indicator, the MACD is crossing to the upside (but still below the zero line).
The share price could continue the current recovery of 12% to $0.66 or even 33% to $0.79 (top of Bollinger Bands) and possibly continue the main trend downward, retesting $0.55 (25-week low).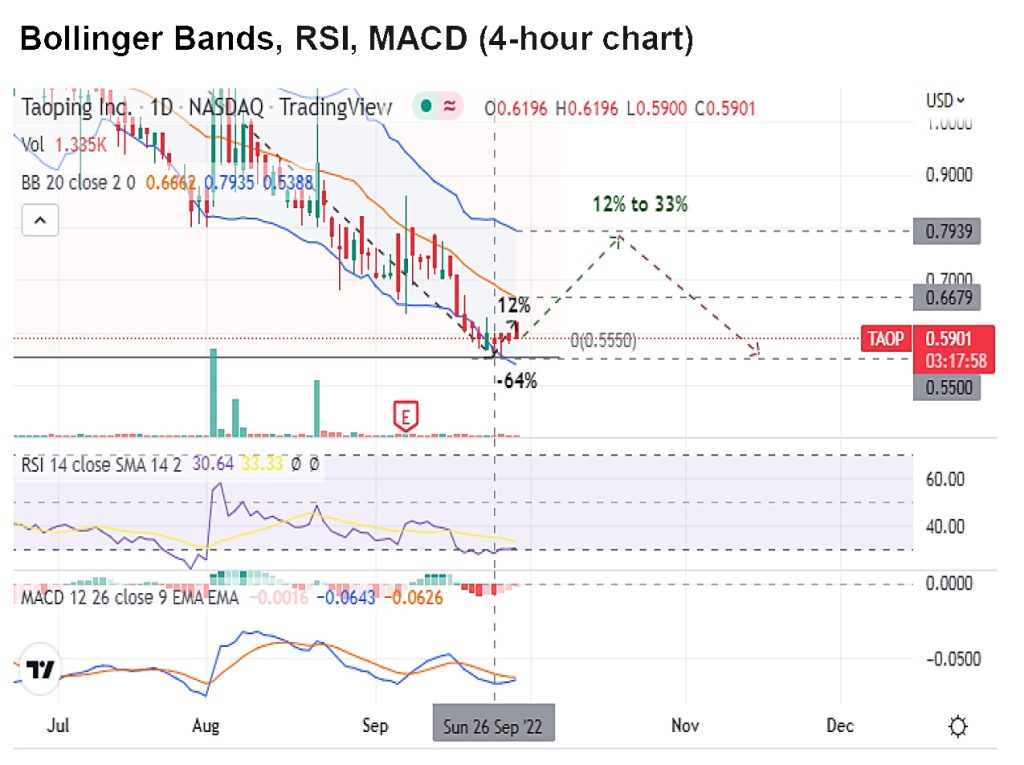 Taoping TAOP Stock Fundamental Indicators
While TAOP is still in line with the averages on profitability rating, there are important concerns about its financial health.
TAOP Stock Profitability
TAOP's Profit Margin of 7.50% is amongst the best of the industry. TAOP does better than the industry average Profit Margin of -0.25%.TAOP's Return on Equity of 12.84% is worse than the rest of the industry. The industry average Return On Equity is 16.79%.
The industry average Profit Margin is -19.77%.
TAOP has a Return on Assets of 5.50%. This is better than the industry average of -0.07%.
TAOP Stock Valuation
Compared to an average industry Price/Earnings Ratio of 18.17, TAOP is valued rather cheaply. On top of this TAOP is cheaper than 96% of the companies listed in the same industry. When comparing the Enterprise Value to EBITDA ratio of TAOP to the average industry ratio of 12.38,
TAOP is valued rather cheaply.
TAOP Growth Potential
Taoping's revenue has grown by 110.58% in the past year. This is a very strong growth. Measured over the past 5 years, TAOP shows a quite strong growth in Revenue. The Revenue has been growing by 19.49% on average per year.
TAOP Stock Health
Compared to an average industry Quick Ratio of 1.48, TAOP is worse placed to pay its short-term obligations than its industry peers. 92% of its industry peers have a better Quick Ratio. A Quick Ratio of 0.68 indicates that TAOP may have some problems paying its short-term obligations. TAOP has a Current Ratio of 0.76.
| | | | |
| --- | --- | --- | --- |
| Period Ending: | 2022 30/06 | 2022 31/03 | 2021 31/12 |
| Total Revenue | $5.27 | $5.27 | $18.42 |
| Gross Profit | $1.85 | $1.85 | $7.20 |
| Operating Income | -$1.77 | -$1.77 | $5.21 |
| Net Income | -$1.00 | -$1.00 | $4.17 |
Piotroski F score 5.00 (Financial indicator that puts together nine criteria to evaluate the financial. 8 and 9 are strong, 2 or below are weak).
| | |
| --- | --- |
| Ratio | TAOP |
| P/E Ratio | 4.38 |
| Gross Margin | 36.62% |
| Operating Margin | 4.75% |
| Net Profit Margin | 7.50% |
| Return on Equity | 14.70% |
| Quick Ratio | 0.68 |
| Current Ratio | 0.76 |
| Total Debt to Equity | 48.11% |
TAOP Stock Analyst Coverage
Litchfield Hills Research TAOP Analyst Coverage
Date of Analyst Initiated Coverage: 5/6/22
Analyst Firm: Litchfield Hills Research
Analyst Name: Theodore O'Neill
Coverage Type: New Coverage
Rating: Buy
TAOP Stock Price Target: $7.00
View Analyst Report: Analyst Theodore R. O'Neill is initiating coverage of Taoping, Inc. with a Buy rating and $7 PT
About Sell-Side Analyst Theodore R. O'Neill of Litchfield Hills Research
Theodore R. O'Neill, IRC, is the CEO of Litchfield Hills Research and has over 25 years of experience working as a sell-side analyst with Wells Fargo, A.G. Edwards, and Needham & Co.
Mr. O'Neill is a Investor Relations Charter (IRC) Holder and registered with Ascendiant Capital Markets, a full-service investment bank based in Irvine, CA.
He is a two-time winner of The Wall Street Journal All-Star Analyst award and his research focus is on all sectors except banking. In addition to being a member of the IEEE, he also belongs to the National Investor Relations Institute (NIRI) and the Penn Club NYC as well as serving as a board member of the NIRI Virtual Chapter.