Today from Beverly Hills global sports and entertainment company Endeavor Group Holdings, Inc. (NYSE: EDR) released released financial results for fiscal year ended December 31, 2021 along with the quarterly period.
Endeavor Group 2021 Company Highlights
Total 2021 Endeavor Group revenue was $5.1 billion, exceeding annual guidance with Q4 2021 totaling $1.5 billion.
Full Year 2021 Consolidated Financial Results
Revenue: $5.1 billion
Net loss: $467.5 million
Adjusted EBITDA: $880.3 million
Best UFC Financial Year Ever
2021 was the best financial year ever in the 28-year history of the UFC. The UFC has changed the fight industry, and it is now a premium worldwide sports brand, media content company, and world's largest Pay-Per-View (PPV) event provider. In August 2016, Endeavor, a global sports, entertainment, and fashion leader with strategic partners Silver Lake Partners and KKR, acquired UFC as the largest-ever financial acquisition of a sports property.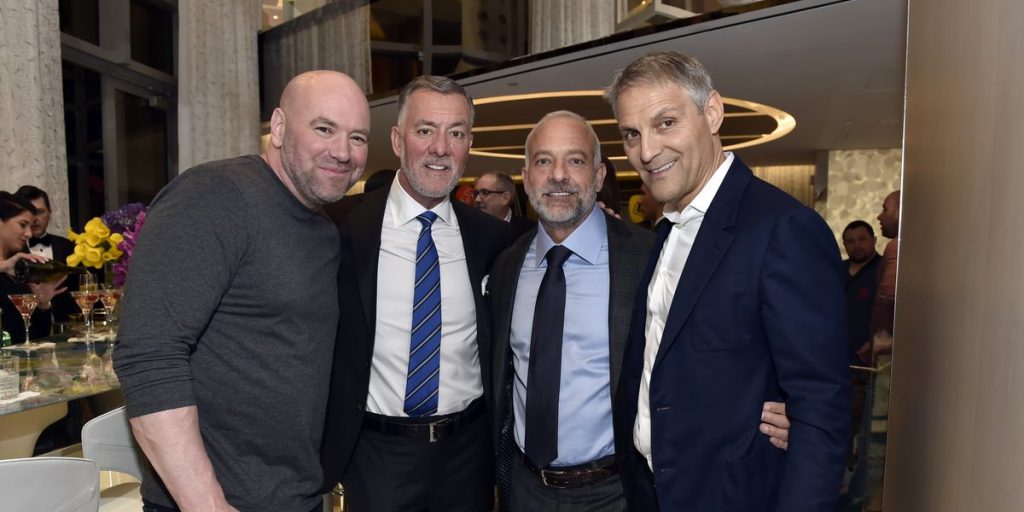 Talent Representation Revenue Increases Double-Digits
Despite touring events still operating at reduced levels during 2021, representation revenue increased double-digits compared to the last non-COVID-19 year (2019). This is good news for the music industry, which has been struggling since the pandemic began. Endeavor Group is hopeful that this trend will continue and more people will be able to enjoy live music again soon.
Sale of Endeavor Content
The announced sale 80% stake of Endeavor Content's scripted business Korea's CJ ENM, the Asian media giant known for backing projects like the landmark closed generating $775 Million after the sale in a deal which saw the entire studio valuation reach nearly $1 billion on a post-money basis.
Return to Live Events Post COVID-19
Endeavor Group highlighted a return to a full schedule of sports events, which will benefit both the sports betting and media businesses, along with a significant increase in attendance at events across its global portfolio as restrictions related to COVID-19 were lifted during 2021.
OpenBet Acquisition
In Q3 2021, Endeavor announced their intent to acquire sports betting platform and content provider OpenBet which is expected to close during Q3 of 2022.
OpenBet is a world-class provider of sports betting content and technology, and partnering with them will allow Endeavor to offer an even better experience to millions of sports fans worldwide. Safe, memorable, and exciting sports betting experiences are what we deliver, and we are excited to continue working with OpenBet to bring this to players everywhere.
Endeavor Group Holdings EDR Stock 2022 Annual Guidance
Revenue is expected to be between $5.2 billion and $5.45 billion
Adjusted EBITDA is expected to be between $1.07 billion and $1.12 billion
Endeavor CEO Ari Emanuel Shares Thoughts on 2021 & 2022 Predictions
Ariel Emanuel, CEO, Endeavor commented on the 2021 results stating, "In our first year as a public company, we saw significant outperformance across our portfolio as the world began to emerge from the pandemic, with increased attendance at live events and continued heightened demand for premium content."
Emanuel also elaborated on the future with thoughts for 2022 and beyond, "Given the unique position we occupy in the content landscape, we remain confident about our ability to continue leveraging trends, unlocking growth, and delivering long-term value."
EDR Stock Segment Operating Results
Owned Sports Properties
Endeavor's sports properties revenue was up 3% in the last quarter, reaching $277.3 million. For the year, it was up 16%, reaching $1.1 billion. This growth is due to the company's successful acquisitions and investments in sport-related businesses over the past year.
These include deals for Ultimate Fighting Championship (UFC) where increases were driven by increased media rights fees, new sponsorship deals and event-related revenue which included nine sold-out UFC pay-per-view events with live audiences along with increases in PBR events, and the successful completion of the Euroleague season.
The Adjusted EBITDA from this segment was $537.6 million for the year, up $80.0 million, or 17%, compared to the prior year.
Events, Experiences & Rights
The revenue from Endeavor Group Holdings' Events, Experiences & Rights segment was up 23% year-over-year in the fourth quarter, totaling $516.7 million. This marks a 28% increase in revenue for the full year, totaling $2.0 billion.
The company attributes the strong growth to an expanded events portfolio and increased demand for content rights, live event returns, IMG Academy summer camps at full capacity and NCSA acquisition.
The Adjusted EBITDA from this segment was $215.6 million for the year, up $156.4 million, or 264%, compared to the prior year.
Representation
Endevaor's Representation segment revenue increased by 161% in the quarter, compared to the prior year. This brings their total revenue for the year to $2 billion, which is an increase of over 100% from the previous year. This impressive growth is due to their strong presence in various markets around the world. Their innovative products and services have allowed them to gain a significant market share in many industries.
An increase in content deliveries at Endeavor Content and an increase in client commissions, licensing and corporate spending on marketing and experiential activations, which had been significantly impacted by COVID-19 in the prior year all lead to the growth.
The Adjusted EBITDA from this segment was $383.4 million for the year, up $171.4 million, or 81%, compared to the prior year.
EDR Stock Balance Sheet and Liquidity
At December 31, 2021, EDR cash and cash equivalents totaled $1.561 billion, compared to $1.029 billion at September 30, 2021.
Endeavor Group debt total was $5.714 billion at December 31, 2021, compared to $5.108 billion at September 30, 2021.